As the years go by, wrinkles, age spots and other signs of ageing can become more pronounced, so it's essential to start a skincare routine now that will help reduce the effects of ageing. Ageing is natural, but with the proper skincare, you can slow down these signs of ageing and maintain that youthful glow.
Here are some of the key signs of skin ageing and what you can do to slow it down early.
Key signs of skin ageing
1. Fine lines and wrinkles
Although it is not inherently obvious, skin damage is cumulative. While we do not immediately see the results, beneath the surface, our skin suffers breakdown and loss of supportive structure.
Fine lines and wrinkles can be formed due to repetitive facial movements. Grooves form underneath the surface of your skin every time a facial muscle is used. As your skin ages and loses its firmness and elasticity, it no longer springs back into its wrinkle-free state, and the grooves become permanently etched onto your face as fine lines and wrinkles.
2. Skin discolouration
Ageing is often associated with changes in skin colour. Skin colour is composed of red, blue, yellow, and brown. The cause of age spots is overactive pigment cells. Melanin is a natural pigment in the skin, produced faster by ultraviolet (UV) light. Melanin can become clumped or produced in high concentrations on skin exposed to the sun for many years.
3. Large pores
Every month, your skin typically goes through a natural shedding process known as desquamation. This process remains consistent until the age of 30. The dead skin, oils and debris that remain on the surface of your skin will most likely become trapped inside pores. Due to the skin being somewhat elastic, the pores will expand to accommodate the excess matter. After the age of 30, your skin takes longer than a month to renew itself, causing pores to expand and appear much bigger than they actually are.
How to reverse or slow down the signs of ageing?
1. Daily SPF
Starting a good skincare routine early enough can considerably slow down skin damage or ageing. UV radiation from the sun's rays can cause premature ageing in fine lines and dark spots if not adequately shielded against with a sunscreen formula containing an SPF rating of 30 or higher, such as BeKind's Sunshield SPF 50– ultra-light sunscreen with antioxidant properties.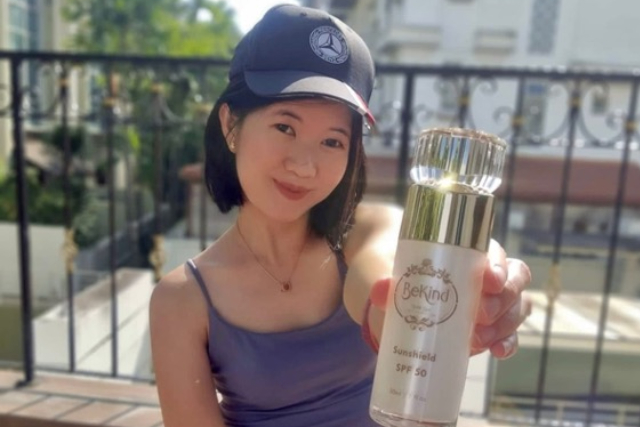 From protecting your skin from sun damage to using nourishing products that support healthy skin cell production, there are many steps you can take to keep your skin looking youthful for longer and to remain youthful and radiant, sun protection is essential.
2. Keep skin hydrated
Keeping your skin hydrated and healthy is essential. Hydration is critical to keeping your skin healthy and preventing premature ageing. Dehydrated skin can take a toll on your complexion, leaving it weak, dull and uneven. When accompanied by the signs of ageing, this can put an unwelcome spin on your visage. Ensure you drink plenty of water throughout the day and use quality moisturisers to restore lost moisture. It is important to note that different skin types are suitable for different types of moisturisers. The BeKind EGF Repair Cream is the ideal product to help prevent premature ageing, loss of collagen and keeps your skin firm and maintains elasticity. Additional benefits include reducing inflammation and irritation, preventing fine lines and wrinkles, repairing skin barriers for younger-looking skin and improving the healing of blemishes.
Use clinically proven products with natural ingredients to help protect your skin, such as this hyaluronic repair serum, which uses hyaluronic acid to soothe and deeply moisturise your skin. The products you use in your cleansing and moisturising routine can significantly impact your skin's radiance– be careful when choosing the right cleanser for your skin, as you do not want to strip off the natural moisture!
3. Facial treatments
Taking care of your skin is an ongoing process and needs rest too! Like the rest of our body, the skin is affected by several factors. It is normal and natural to start noticing fine lines and wrinkles in your mid-30s; some can notice them even younger. By this time, your skin starts to feel less soft and smooth, giving a puffy and tired look. Treat your skin to facials now and then to help you slow down the effects of ageing and give it the rest it needs. There are many anti-ageing facial treatments in Singapore that are suitable for all skin types. These treatments involve exfoliation, moisturisation, extraction and other techniques to highlight your skin's natural radiance.
My Cozy Room offers Ultimate Anti-ageing Facials that will help keep your skin vibrant and healthy. The facial leaves you with surgical-like results, improving your skin texture, elasticity, and tone while taking care of the appearance of fine lines and wrinkles. Enjoy our Ultimate Anti-ageing Facial at 50% off (u.p $388). Don't miss out on this special promotion!
Conclusion
Starting an anti-ageing skincare regime early is essential if you want to keep your skin looking young for longer. From drinking plenty of water throughout the day and using high-quality moisturisers to using natural ingredients hyaluronic acid, there are many steps you can take right now to keep your skin healthy and youthful for years to come. Don't wait until it's too late – start investing in anti-ageing skincare today!
My Cozy Room offers facial spa services in Singapore that help you feel comfortable in your skin. Our goal is to provide a comfortable, relaxing environment where you can pamper your skin, clear your mind and restore balance to your life. Say goodbye to wrinkles and hello to youthful, glowy skin. Having attained several awards, such as Daily Vanity Beauty Treatment Awards 2022: Daily Vanity Recommends and Women's Weekly Spa awards 2022: Best Anti-Acne and Clarifying Facials, our experienced and knowledgeable team are here to guide you through the best products and services for your skin type.