Acne occurs when sebum and dead skin cells clog your pores or due to imbalances in your hormones. Sometimes acne pimples appears in recurring places and may indicate underlying health problems. If you struggle with stubborn acne in the same places, read on to find out what that acne might mean for your health.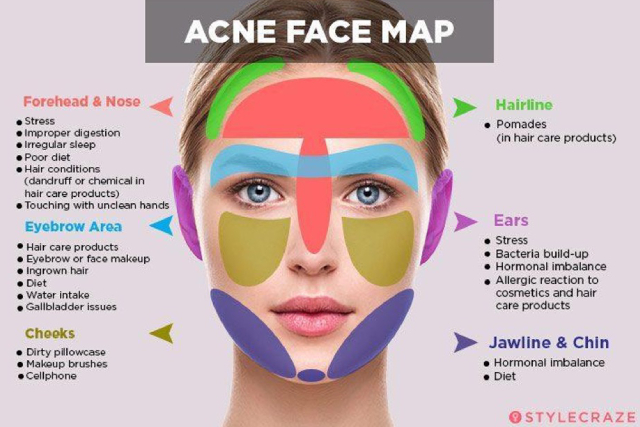 Credit: Style Craze
Hair and beauty products causing hairline acne
Various irritants can cause acne or pimples around the hairline and forehead. One common cause could be hair products such as gel or hair serum, which add to an excess of oils around the hairline. Headwear such as caps, hats and headbands can also cause sweat and oil to build up, leading to higher chances of break out. As the hair is naturally oily, practise good hygiene and wash your hair regularly, especially on hot days or after strenuous activities.
Stress can cause flares in the T-zone
The forehead and nose area is often referred to as the T-zone. The T-zone tends to be oilier and more prone to acne as more oil glands are present. If you struggle with acne pimples in this area, consider reducing any stressors in your life. While stress does not cause additional oil production, it can intensify existing acne.
Bacteria causing cheek acne
There are many reasons for cheek acne. Amongst the reasons are makeup, hormonal changes and bacteria. Makeup can cause acne anywhere as products may trap oil and dirt if worn for long periods. Bacteria can also appear in your makeup products, phone, and pillow. Ensure you clean your makeup brushes regularly to prevent bacterial build-up. Likewise, your phone and pillow can potentially be spreading bacteria whenever they touch your face– wipe your phone often with disinfectant wipes and change your pillowcases weekly.
Hormonal changes affecting jawline and chin acne
Changes in the hormones can cause acne along the chin and jawline. Excess production of a hormone called androgen can lead to excess oil production, which clogs the pores. This is why you may experience bad breakouts around your menstrual cycle, as hormones typically fluctuate during this time. However, diet can also affect hormone imbalance. Acne can be triggered by dairy, refined carbs, alcohol and inflammatory food products, as these foods cause hormones which worsen acne to increase. Consider reducing these foods from your diet. Instead, opt for food rich in omega-3 and high in fibre– mineral-rich foods can reduce inflammation and improve skin health.
Conclusion
Tackling the underlying causes of your blemishes is a great way to clarify your skin. Figuring out the potential causes can help you combat the reoccurring acne. In addition to solving these problems, find out more about how you can treat your acne and find suitable skincare for acne skin. For professional advice on how to treat your skin, consider getting a facial for acne with us such as our award-winning Ultimate Pore Extraction Facial at $144 (U.P. $338, 120 min). Valid for first-time customers residing in Singapore only.
Here at My Cozy Room Facial Spa, we are known for the Best Extraction Facial in Singapore, offering a wide range of treatments for all skin types and emphasising gentle extraction with minimal pain. We have also attained several awards, such as Daily Vanity Beauty Treatment Awards 2022: Daily Vanity Recommends, and Women's Weekly Spa awards 2022: Best Anti-Acne and Clarifying Facials.