Oily skin and oil cleanser, seems like a recipe for disaster! Especially living in the Singapore climate, most of you would have experienced the annoyance of incessant facial oil production because of the humidity. Slathering more facial products with oil on our oily skin types might seem ridiculous. However, using the right type of oil cleanser can actually improve your skin's sebum production and better cleanse your skin!
Benefits of using an oil cleanser for oily skin
1. Cleanses your skin thoroughly without stripping your skin of its natural oils
I'm sure you have heard that oily skin is often a result of dehydrated skin. In fact, using cleansers that are too harsh when you try to cleanse your face may result in stripping your skin of its natural oils and natural moisturising factors. As a result, your face becomes dehydrated and produces more oil.
Conversely, using an oil cleanser will ensure that your skin retains its moisture balance whilst simultaneously ridding your pores of all the gunk! Find out how in the next point.
Read this as we debunk more skincare myths and misconceptions!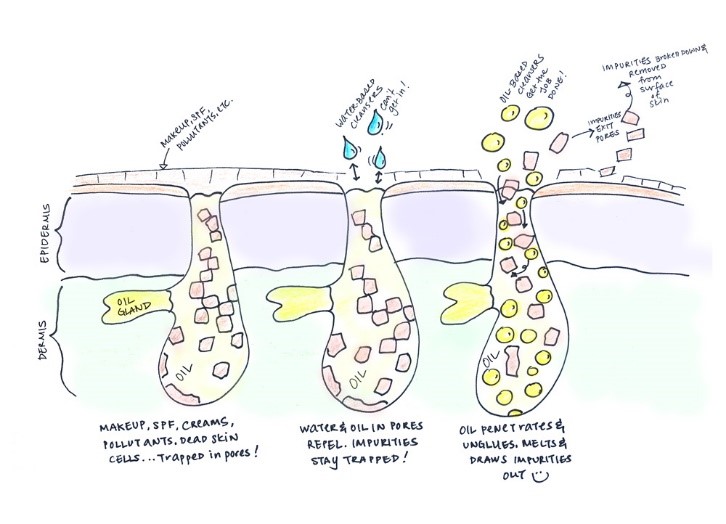 2. Oil attracts oil – away from your skin!
The law of attraction is strong between oils, as they attract each other. This means that the oils in an oil cleanser attracts oils in your pores out and away! Oil cleansers also work to dissolve dirt in your pores, making it easier to be rinsed away with water.
By using an oil cleanser, all the makeup, dirt and excess sebum that clogs your pores get "extracted" and washed away. Unclog your pores and keep away excess oil while keeping your face naturally moisturised and well-balanced! Oil cleansers are the best friends of oily skin types!
3. Works perfectly by itself, or as step 1 to your double cleanse!
Oil cleansers work perfectly by themselves before toning and moisturising. However, if you've been keeping up with the Koreans, double cleansing has been a cult favourite for skin lovers! The first cleanse uses an oil-based cleanser to remove the majority of the dirt and make-up from your face. The second cleanse involves the use of a gentle, water-based cleanser to remove any remaining residue.
How to use your oil cleanser
First, apply your cleansing oil to your dry face, and gently massage over your face. Then, add a bit of water to emulsify the cleansing oil. This will help to more effectively expel the dirt from your pores. Finally, finish up by rinsing your face thoroughly with water.
Choosing the right type of oil cleanser
Oil cleansers are aplenty these days, but it is important to find the right type of cleansing oil that works with your skin type.
Oils to avoid
There are some oils that tend to clog up pores, so oily skin types should take note and avoid them. Such oils are characterised by their high concentration in oleic fatty acids. Familiar examples include unfractionated coconut oil, olive oil, avocado oil and even cocoa butter.
You should also avoid using pure oils by themselves as a cleanser.
Oils to look out for
Instead, oily skin types should use oil cleansers with oils that are high in linoleic fatty acids. This is because oily skin types typically have a deficiency of linoleic fatty acids. Examples of such oils are grape seed oil, rosehip oil and jojoba oil.
My Cozy Room recommends:
My Cozy Room believes in the effectiveness of double cleansing, and practises it with BABOR's bi-phase cleansing system. It uses the BABOR HY-OL and Phytoactive Cleanser, a duo that is effective for oily and sensitive skin types.
The BABOR HY-OL Cleanser is a hydrophilic cleansing oil that caters to all skin types, including oily skin. BABOR HY-OL is the first of oil cleansers where it is specially formulated to be soluble in water. The founder of BABOR pioneered the hydrophilic oil cleanser formula, utilising the combination of water and oil to enhance facial cleansing. The pure natural plant oils and Quillaja extract found in the product work to attract dirt from your pores. In effect, cleansing is intensified but without causing tightness – a common result of over-stripping the skin.
The second step uses of the BABOR Phytoactive Cleanser that is catered to oily and combination skin. The Agrimonia extract with natural antioxidants in the formula combats environmental stressors that aggravate skin conditions. It also contains Witch hazel which is effective in soothing oily skin and controlling sebum production.
BABOR HY-OL must be used with an accompanying skin-type specific Phytoactive Cleanser to obtain optimum results and prevent skin aggravations.
Oily skin solutions with My Cozy Room
Double-cleansing with BABOR HY-OL and Phytoactive Cleanser gives a refreshed and radiant complexion that feels smooth and soft. This is as it effectively removes make-up and dirt from your pores whilst helping to control sebum production.
My Cozy Room has various facial treatments for oily skin types that utilise the BABOR bi-phase cleansing system. Find out more below!
My Cozy Room @ Cairnhill
Contact: 6732 0030
WhatsApp: 8666 0030
My Cozy Room @ Devonshire
Contact: 6753 0030
WhatsApp: 8811 0030
Register your interest here and we will contact you soon!