"New year, new me", the saying never gets old. As we welcome the new year 2021, there's no better way to get your year kick-started and make lifestyle changes you've been avoiding. This year we will be focusing on healthy you, healthy skin.
This year, it's time for a change. Following the 21/90 rule, you can either build or change habits by committing for 21 days, then followed by 90 days for a permanent lifestyle change. 111 days might seem like a long duration, break it down and reward ourselves periodically!
Many resolutions focus on career, financial and fitness-related. However, most often than not, missing out on the most fundamental which is self-care. Self-care is no longer deemed as a luxurious pampering session but its the biggest investment one can ever invest in that will definitely reap returns in the near future.
Today, we will be sharing with you some of our new year resolutions for clear and healthy skin that we believe your skin will love us for. We understand the journey to deal with skin conditions will be a long and arduous one but fret not we are going to make it really simple and easy for everyone, with no complications. Check it out for yourself, let's start rolling!
Water Inside Out
It should no longer be a surprise to find out that water is essential. Your body not only relies on it to function, but your skin requires a lot of it! Many have advised drinking a minimal of 8 glasses, roughly equivalent to 2 litres, of water a day. A better way will be to carry a water bottle along with you and drink as much as possible throughout the day. In fact, drinking a glass or two the first thing upon waking up is the best way to quickly rehydrate your body and start the day afresh!
Drinking water can also be a fun and exciting way by adding various fruits to your water for the additional benefits and delicious taste! Drinking water will never be dull again, trust us on this!
Protect – Moisturise, Sunscreen
We can't emphasize enough the importance of applying skincare to keep your skin looking good! It is understandable that we experience lazy days and stay in bed all day without care. Yes, we understand, you're not alone. However – never ever skip moisturiser as it not only boosts hydration, prevents dull and flakiness but also maintains a balance for your skin! Moisturiser is crucial, be it for the day or night time, it's a holy grail!
Likewise, sunscreen plays a vital part in skincare too. Be it indoors or outdoors, the sun's UV rays will be able to penetrate through leaving you with skin damage for prolonged exposure. Sunscreen is, therefore, a must for your daily morning skincare routine. We recommend getting SPF30 or more as SPF is only as beneficial as the highest SPF applied. Alternatively, purchasing makeup products with built-in sunscreen can be cost and time-saving!
As there is a constant need to reapply sunscreen, many find it bothersome. Save the hassle of applying cream or lotion sunscreen above your makeup by opting for sunscreen spray or powder sunscreen to use throughout the day. Remember to always stay protected to avoid damages!
You Are What You Eat
"You are what you eat" is not just a myth. It is proven and reflected through your body. Skin conditions are equally highly affected by a bad diet. Click here to understand more about Acne Face Mapping and what your skin is trying to tell you.
Keeping a close watch on your diet not only helps you to achieve clear skin but also shift towards a healthier diet and weight loss. Instead of cutting out sugar, oil and even dairy products in your daily diet, we recommend you to substitute it with real food and plant-based goodness! Additionally, avoid alcohol and caffeine as it dries out skin and causes frequent urination. Your body will flush out its much-needed water and nutrients. Remember, it is important to keep ourselves hydrated for healthy skin!
Click here to find out more about the best and worst foods for healthy and anti-acne skin.
De-Stress
Beauty starts from within, healthy skin is a result of a healthy state of mind! Failing to manage your stress can highly affect your skin. Stress releases hormones that cause a chain reaction of chemicals in your body. Your skin will therefore become extra sensitive to external irritators.

You can cope with stress by engaging in various activities that are comfortable for you. De-stressing activities can be as simple as meditating, going for a walk, painting, indulging in a facial spa treatment or even sleeping!
Healthy Mind, Healthy Body and Healthy Skin, start today!
Sleep is a Necessity, Not a Luxury
Sleep deprivation affects your mental health and overall appearance resulting in the skin becoming duller, drier and lines more visible.
Science has proven that you can sleep your skin younger as blood flow increases for your skin. Your skin rebuilds its collagen and repairs damage from sun exposure, reducing fine lines and wrinkles as well as age spots.
The best time for beauty sleep range from 9 to 11 pm, with a recommended amount of 7 to 9 hours of quality sleep every night. It is important to understand that work is a never-ending vicious process, so ditch it and hit the bed! On a serious note, start by getting a few more hours of sleep to see improvements to your skin. There are so many beauty benefits just from sleeping, how wonderful!
"Breathe"
Ever heard of the saying – letting your skin "breathe"? Skip makeup on days that are not necessary. A day free of makeup is ideal for skin health to recalibrate and to naturally rejuvenate as it does during sleep.
Makeups are occlusive as it interferes with the skin reaction to the external environment, resulting in the skin not being able to react to the climate thus not functioning at its prime. You are directly introducing "chemicals" into the bloodstream by applying and allowing makeup to being in close contact with the skin for a prolonged period of time. This can cause a hormonal reaction resulting in acne, blocked pores or blackheads.
Go easy on your skin and reduce excessive products you've been using or choose only minerals-based or nontoxic makeup products. The less makeup you wear, the less you are "needed" to wear makeup. Start off by going makeup-free once a week and your skin will begin to function in a healthy way. Do not be alarmed, your skin might look worse in the beginning. Your skin will "get rid of the unwanted" by undergoing the rejuvenation and detoxification process, leading to breakouts and inflammation. Your skin will start to look better!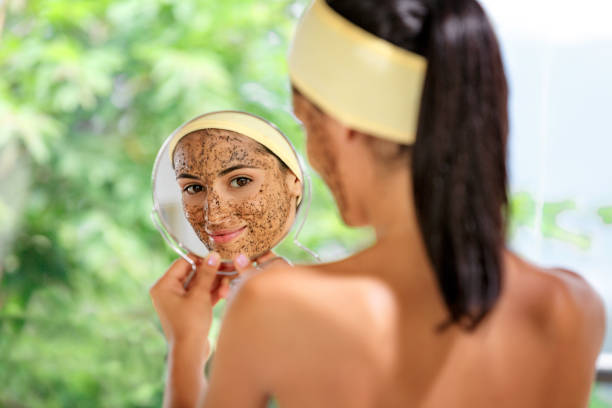 Exfoliate Regularly
Surprise surprise, exfoliation made it to the list! For all the lazy bums out there, exfoliation is essential for all ages. The process of cell turnover slows over time resulting in a dull-looking complexion and rough patches. Exfoliate once or twice weekly for a lively skin complexion as it removes top layers of dry and dead skin. It further ensures pores remain uncongested which helps to prevent acne. Exfoliation comes with many other benefits such as boosting circulation and lymphatic drainage, stimulating collagen synthesis, increase cell turnover and most importantly helps to increase absorption for other products in your skincare regimen. Be mindful not to over-exfoliate which will leave your skin sore, flaky, red and irritated, or sometimes even acne inflammation.
Not all exfoliators are good for you. It is advisable to do research and find the best suitable exfoliators that suit your skin's needs. My Cozy Room recommends BABOR Enzyme Cleanser which is a water activated cleansing and exfoliating powder that dissolves to form a gentle exfoliating foam. This type of exfoliator is gentler to the skin's surface and suitable for those with sensitive skin.
Stop Washing Your Face in the Shower
Thinking it's a good idea to wash your face when in the shower? Think again. Other than being fast and efficient, it's not doing much good to your face.
As the skin on your face is more sensitive than your body, the temperature of the water matters. The hot water from the shower will wash away the oils in your skin as it heats, emulsifies and dissolves the oils, resulting in the drying of the skin. You're simply washing away your skin barrier that protects your skin! Natural moisture factors such as ceramides, fatty acids and oils help in retaining moisture levels in the skin, yet it is water-soluble. Ten minutes in or longer under the hot shower, you're practically washing them away too!
Additionally, shampoo might drift and drip down from your hairline, or your hands are not thoroughly clean off shower gel. This will affect your skin as it foams up with your facial cleanser and destroying pH level.
Wash your face at the sink after your shower to allow the steam from the hot water to enlarge your pores and be better prepared for your skincare regimen.
Schedule Appointment for Regular Facial
Your skin deserves a well-deserving pampering session! Facials have been studied to bring about up to 15 amazing benefits that are vital in achieving healthy skin. With frequent facials and investment in your skin, your skin will represent and reward you in the future. Your future skin will thank you for it.
However, it is important to seek help and advice from professionals to prevent more harm than good to your face.
With many prestige accolades under our belt and known for "Best Extraction Facial" in Singapore, My Cozy Room offers an array of facial treatments ranging from face, eyes, neck and body for various skin types. We pride ourselves in gentle and thorough extraction with the use of premium, quality, and plant-based skincare products, leaving many customers satisfied.
Say hello to clear, healthy and radiant skin by scheduling an appointment with our therapists! Cheers to healthy skin, beautiful us!
To book an appointment with us, WhatsApp us @ 8666 0030.
Keeping a Skin Diary
Is skin diary the future of skincare? A large amount of money and energy have been invested in our beauty routine, we ought to reflect on what is working and what isn't. There are many aspects of our daily lives that can trigger and aggravate our skin conditions. It is however difficult to keep track of triggers that are affecting you and your skin.
A skin diary will therefore come in handy as it tracks the state of your skin. It helps you to remember the happenings, identify triggers and maintain habits that are helpful. Your skin diary works simply like a personal diary or a tracker – record down food consumed, skincare and makeup products used, perfumes, soaps, happenings during the day, sleep, weather and others.
Keep a skin diary for 3 months to get a good overview. Otherwise, try for at least a minimum of 28 days. The longer you keep your skin diary, the higher likelihood you will spot patterns affecting your skin. You can even bring your skin diary to the doctor to better understand the patterns and your overall health!
---
With the list of new year resolutions, I believe many are better aware of how to maintain a proper daily routine. Let's all achieve healthier, radiant and better skin for the new year!
Known for the Best Extraction Facial in Singapore, My Cozy Room has attained several prestigious awards, including the latest Women's Weekly Spa Awards Winner, World Luxury Spa Awards and Daily Vanity Spa & Hair Awards.
Try out our Premium Pore Extraction Facial at 50% off (U.P $288, 120 min) now!
*Valid for first-time customers residing in Singapore only
The results of our targeted treatments are immediate and long lasting, creating the foundation for achieving clear and radiant skin!
WhatsApp: 8666 0030
Register your interest: https://www.mycozyroom.com.sg/bestfacialpromo, and we will contact you soon!