While the number of infected cases have taken a dip in the recent weeks, let's not be complacent about the COVID-19 pandemic, and certainly not taking your skin for granted. If you have been experiencing breakouts and acne after wearing the mask, you're not alone. Here's all the things you need to know about Maskne, and how to treat them!
What is Maskne?
The term 'Maskne' is simply derived from the words 'Mask' and 'Acne' as this particular form of acne is caused by wearing fabric face masks or surgical masks for long durations. While we're all busy trying to protect our health from the virus, Maskne is an unfortunate side effect from the daily usage of masks, and it has become one of the greatest skincare concern worldwide.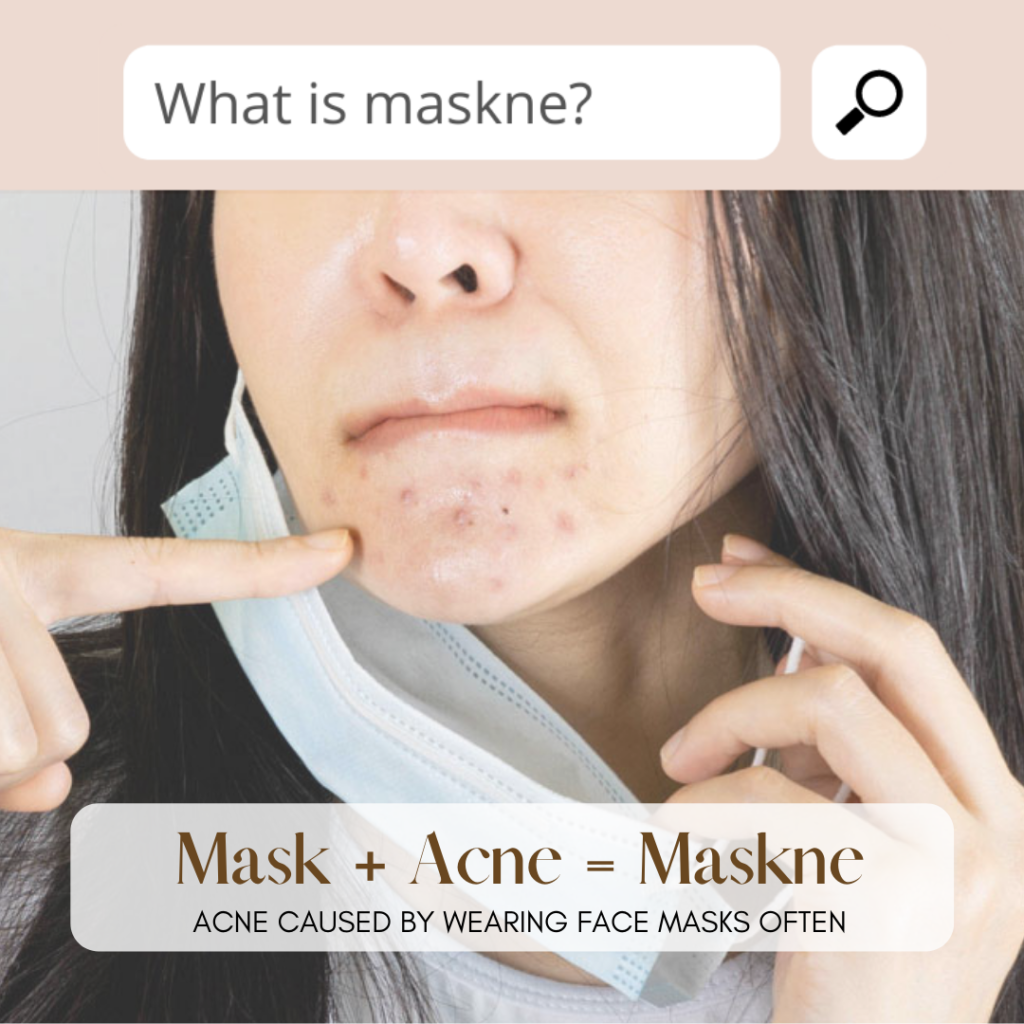 What Causes Maskne?
Maskne is often caused by several factors, or a combination of all.
Most often, Maskne is caused by accumulated sweat, oil and dirt on your face. Wearing a mask daily makes it worse as these impurities are trapped on your skin underneath the mask, causing your pores to be unable to 'breathe'. When these impurities are stuck and built up further, your pores will be congested leading to breakouts. Having makeup like foundation will also result in more clogged pores.
With constant breathing and sweating under your mask, the seal of the mask intended to prevent any form of water droplets from escaping, also traps bacteria and moisture within. This humid environment is the perfect place for acne-causing bacteria to thrive, and therefore contribute to Maskne.

On top of that, the movement of your mask causes friction on your face which may lead to sensitivity and redness. This could be the reason why your face is itchy after a long day.
Does Maskne Affect Everyone? Or Only Acne-Prone Skin Types?
It is possible for Maskne to affect anyone. However, those with sensitive or acne-prone skin will face a higher chance of getting Maskne due to prior skin condition. If you have existing acne and breakouts, wearing masks may highly aggravate the issue. For those with oily skin types, your skin tends to produce more sebum which can lead to clogged pores.
Can maskne be treated by yourself?
Maskne doesn't do any good to one's self esteem, and it could be really tempting to scratch off the bumps or acne on your face. Better think twice before doing it, as popping your own pimples is like digging a grave for your skin. Acne and breakouts require delicate handling, doing it by yourself may rupture the acne wound, thus causing inflammation and potentially acne scars.
How to treat maskne?
The correct way to treat maskne to go for a trusted and professional facial treatment such as Maskne Facial, which is targeted for serious acne.
Renowned for its anti-bacterial and anti-inflammatory healing properties, My Cozy Room's Award-Winning Premium Anti-Acne LED Facial Treatment specially catered to those who facing severe acne or congested pores with acne scars. In addition to our highly praised extraction techniques from our professional therapists, this all-in-one treatment is equipped with blue, green, yellow, red and infrared wavelengths, providing your skin with powerful benefits from each different light.
Blue light is effective in clearing stubborn acne and lightening acne scars. Red used to soothe inflamed skin and repair acne scars while green light helps to stabilise and control oil production and minimise pores. Yellow light reduces redness after extraction and infrared provides anti-inflammatory and scar treatment properties.
This premium treatment is the best of both worlds. Combining our signature extraction treatment with LED light therapy to penetrate and treat your skin from within, you can expect clear and radiant skin within just one session!
Enjoy My Cozy Room's Premium Anti-Acne LED Facial @ 50% off (U.P. $388, 120 min)
*T&Cs apply
Register your interest: http://mycozyroom.com.sg/bestacnefacial
What products are suitable for Maskne?
On top of Maskne treatments, regular maintenance of your skin is equally important. Skipping on skincare products may likely provide an opportunity for your skin to aggravate. Don't overlook this crucial step – Cleansing is extremely important on any basis, as it provides a clean and fresh 'canvas' for skincare products to work their magic. Here are some products that we recommend to keep your skin in check.
BABOR Cleansing Hy Öl
Used as part of our signature cleansing ritual during My Cozy Room's Award-winning facials, the BABOR Cleansing Hy Öl contains natural plant oils to gently remove dirt and impurities without drying out your skin. Remember to cleanse your face thoroughly before putting on a mask, and after removing it at the end of the day.
Acne Drying Lotion
Our dermatologically tested Acne Drying Lotion helps to soothe troubled skin and dries up your pimples effectively with a shorter recovery time. Specially formulated to work hand-in-hand with My Cozy Room's Award-Winning Facials, this doubles up as an emergency weapon against your acne enemies, especially if you are unable to spare time for an immediate facial treatment.
How to prevent Maskne?
Prevention is always better than cure, and is definitely more affordable too! But of course, ditching the mask is out of the question. Especially when health is at utmost priority at the moment.
The mask is a culprit of Maskne, but makeup actually triggers more breakouts, caused by further accumulation of oil and impurities, which is likely to worsen your acne. If makeup is necessary, opt for breathable makeup with water-based foundation.
Alternatively, use My Cozy Room's non-comedogenic Acne Concealer to conceal breakouts flawlessly, effectively covering up all kinds of blemishes, including pimples and acne scars. At the same time, it acts as an acne spot treatment to heal and prevent acne formation without drying the skin.
Fabric vs. Surgical Mask, which is better?
Keeping your mask new and fresh is essential in providing a clean environment for your skin. Hence, disposable surgical masks would be a more viable option if you have sensitive skin. Remember to get your surgical masks from trusted sources and change out your dirty mask at least once a day!
On the other hand, fabric masks have the advantage in terms of saving cost and looking more aesthetic. However, the chemicals and colorants in the fabric mask may also be a cause to your acne breakouts. Try to purchase something soft (100% cotton) and natural without excessive colorants. When you're washing your mask, use gentle and fragrance-free cleaners instead of harsh detergents that may cause damage to your skin.
Will Maskne ever go away?
Unfortunately, Maskne will not cease to exist as long as COVID-19 is still lurking around. Prepping our skin in advance gives us the advantage to prevent or minimise clogged pores and acne. Treating Maskne is no easy feat, but with regular efforts in maintaining a good skin regime and going for professional facial visits. Also you will regain clear skin in no time! Bid goodbye to Maskne and acne!
Just speak to our team if you interested to find out more about our Maskne and facial treatments. And we will happy to serve you!
Known for the Best Extraction Facial in Singapore, My Cozy Room has attained several prestigious awards. Also including the latest Women's Weekly Spa Awards Winner, World Luxury Spa Awards and Daily Vanity Spa & Hair Awards.
Try out our Premium Pore Extraction Facial at 50% off (U.P $288, 120 min) now!
*Valid for first-time customers residing in Singapore only
The results of our targeted treatments are immediate and long lasting, creating the foundation for achieving clear and radiant skin!
We also proudly featured on The Fun Empire as Best Spa Services in Singapore!
WhatsApp: 8666 0030
Register your interest: https://www.mycozyroom.com.sg/bestfacialpromo, and we will contact you soon!