A good old facial extraction has been proven to be the ultimate solution of removing dirty, bacteria-filled pores and acne since decades ago. All skin needs to be nourished, taken care of, and ridden of blemishes and dirt on a regular basis. And the results after a session of extraction would be instantaneous : all the gunk accumulated in our pores would be removed, allowing one's skin to breathe better than before. An extraction instantly allows one to embark on a road to not only clear, but most importantly clean skin!
Why Facial Extractions?
Very often, our pores get severely clogged after exposure to the pollution in the air and after improper cleansing in our day-to-day lives. When dirt, grease and oil gather in open pores, coupled with the dried skin cells on the surface of our faces, things will start to go south for our skin. Worst thing: it gets really ugly, really fast.
Acne breakouts forming on our skin can be extremely obvious and frustrating to our daily lives. Ever had a pimple you could see from metres away? Or tiny bumps on the forehead that just made you feel so insecure and conscious about? Maybe even made you cake your face with makeup as a safety blanket? Only to find the condition of your skin worsening?
Facial extractions not only eradicates all these worries and doubts you have about the health and condition of your skin, it can 100% clean your face, leaving a smooth finish. With the presence of certified professionals with decades of experience in extraction, you need not worry about hurting your own face. Each treatment session would be catered specially for your specific skin condition, and the professional therapists would be able to not only care for your pores, but also for your pain levels.
Is Facial Extractions Painful?
Facial extractions are notoriously known to be really painful, next in line after toothaches and dental appointments. However, with a good facial extraction spa, professionals would tailor the treatments to suit every individual's pain levels. Different people deal with pain differently – but a good spa is able to derive the same results despite taking pain levels into consideration. 
One thing is for sure though: the more you go for them, the less painful they will be! For customers doing their virgin facial extraction, it may sting a little. However, a word with your therapist will definitely ease things immensely. Moreover, upon seeing your clear and clean face after the treatment, it'll all be worth it!
Why Not Do Self Extractions?
If you do not want potholes, scars or hideous marks on your face, leave it to the professionals instead! It's understandable why you can't control your itching fingers and hands from squeezing your hideous pimples and acne away. Tons of people often think removing their own clogged pores solves everything quickly, in their moment of frustration and impatience. However, think twice, think thrice, before committing this blunder. Here are some reasons why you should stay away from removing them on your own.
Damages your skin
Frantically squeezing them out may not only cause bacteria to continue dwelling in your pores, but may also damage your skin. Skin irritation and enlarged pores may also cause more bacteria to enter your skin, and worsen your skin condition. Inflammation and skin irritation may even escalate, to become worse than before. Pimples will increase in redness, and even cause scarring and marks to form permanently. As a result, damage control would require more money and effort than necessary.
More Oil on Your Face Leading to More Clogged Pores
Upon successfully squeezing out a pimple or blackhead by yourself, bacteria from within the pore is released as well. This bacteria can land on the surrounding pores and result in even more acne growing in the surrounding vicinity of the squeezed pore.
Bacteria on our hands
Without the proper tools and professional aid in squeezing out those acne, we resort to using our hands and fingers. More often than not, we do not wash our hands before touching our face; and germs, oil, grease, dirt would gather at our facial pores. This causes even more clogged pores than before, rather than solving the original problem in the first place.
Moral of the story – leave your face alone! Leave it to a professional to do the ultimate skin transformation for you which you truly deserve.
Here's more!
For facial extractions treatments at My Cozy Room, it is nothing short of a big thumbs up from almost all our clients. Voted the Best Extraction Facial in Singapore, we own an impressive collection of awards from the Singapore Women's Weekly, TripAdvisor, World Luxury Spa awards, and many other popular platforms. With My Cozy Room Spa, we can guarantee results. It's not just all about a ploy to get more customers. We care about you – and your skin. We want the best for you.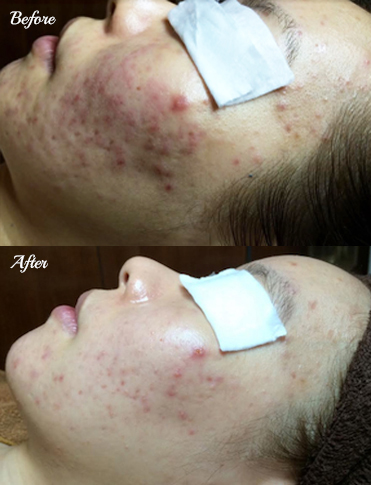 From customer feedback, the process is relatively painless throughout. After our LED treatments and natural based products used to soothe the skin prior to and after the facials, there is minimal redness and damage to the skin. Some people often see the word 'extraction' and think of sharp metal tools poking and prodding at one's skin. However, we promise that the entire process would leave you and your skin rejuvenated and refreshed.
Our professional beauticians are experienced in the field, with decades of experience in the field of extraction. Under their meticulous hands, many customers have mentioned that their faces have improved in leaps and bounds, with the results faring better than many other spas they have chanced across. Using gentle and thorough techniques, our professionals thoroughly remove every single clogged pore in your skin. A 120 minutes with us is all it takes for your skin condition to turn around: for the better. Say goodbye to acne issues, blackhead woes and pigmentation problems! A trip to the Best Extraction Facial Spa will solve your problems.
Known for the Best Extraction Facial in Singapore, My Cozy Room has attained several prestigious awards, including the latest Women's Weekly Spa Awards Winner 2020 and Daily Vanity Spa & Hair Awards 2020.
Try out our Premium Pore Extraction Facial at 50% off (U.P $288, 120 min) now!
*Valid for first-time customers residing in Singapore only)
The results of our targeted treatments are immediate and long lasting, creating the foundation for achieving clear and radiant skin!
WhatsApp: 8666 0030
Register your interest: https://www.mycozyroom.com.sg/bestfacialpromo, and we will contact you soon!