"What are facials for?"
"Are facials painful?"
"Why do I need a facial?"
Will I get breakouts after a facial?
Source: Pinterest
These could be some common questions that you have pondered about if you have never done a facial before.
And some of you might be nervous about getting a first time facial because of past unpleasant experiences or lack of understanding about the treatment process.
Before you pop by our spa for a facial treatment, we are happy to clear off some doubts or questions that you might have in your mind.
What to Expect Before Treatment of first time facial:
Our facial therapists will ask you a few questions that may help them better evaluate your skin condition in order to customize a suitable treatment. This may include:
Current skin care routine/ products
Skin allergies
Skin concerns and goals
Source: My Cozy Room
After having a clearer understanding of your skin, our therapist will suggest a suitable treatment, which you will then decide whether to go for it. You may also voice out any concerns and our therapist will try our best to address them. You will be brought into a room where you will get changed into a comfortable robe for your treatment, and get wrapped up comfortably in a spa blanket for your pampering treatment.
What to Expect During Treatment:
Don't worry if you have any make up on! Our therapist will clean off any impurities on your face (even if you do not have make up on). Instead of the typical milk and foam cleanser that most places use, we use 100-year patented Hy Ol with Phytoactive treatment essence, as it is ideal for people with sensitive or oily skin. Oil Cleansers are used as they are able to naturally remove oil from your oily and sensitive skin, instead of stripping off your skin's natural oil by using soap and detergent-based cleansers. This process ensures that bacteria and dirt will not enter your pores during the extraction.
The facial continues with a relaxing scrub, necessary to remove any dead skin cells and leaving the skin smoother than before. Many places use scrub with granules, which is mechanical and superficial only on the skin surface, however this method is harsh on sensitive skin and may even break acne with pus. On the other hand, we use Lactic Clay and Fruit Enzyme (Biological type), which is gentle on the skin as they can soften and dissolve impurities and dead skin just like our saliva.
Source: Oo-foodielicious
After exfoliation, get ready for a facial steam. Don't freak out at this point! The facial steamer is a product that uses steam and essential oil for opening and deep cleansing your pores, in order to prepare your skin better for the extraction later on. Toxins are also removed faster during this process. If you feel uncomfortable at this point, feel free to let our therapist know so that she will be able to adjust the temperature and angle. Do note that this process takes about 10-15 minutes.
Most first-timers are usually concerned about the extraction process due to the possible discomfort or pain from the treatment. However, an extraction is essential as part of the facial treatment in order to treat clogged pores, blackheads and pimples. Due to the high quality products used during pre-cleansing steps, coupled with our skillful therapists who are specialized in extraction and serving customers with heart, the extraction process is relatively painless with minimal redness (Based on most of our customers' feedbacks).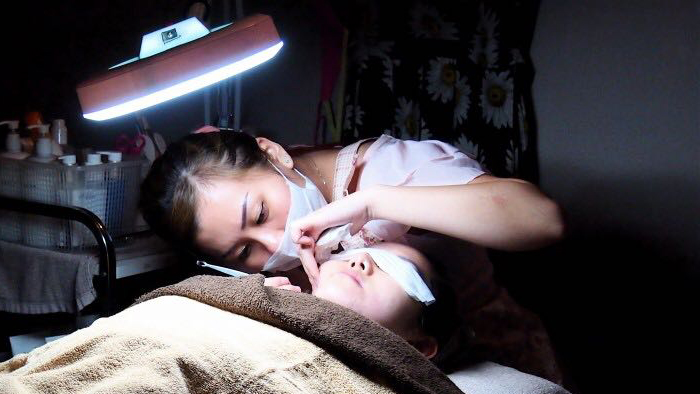 Enjoy a revitalizing Clear Quartz crystal eye massage after your extraction, which is also one of the signature perks of our facial here at My Cozy Room. The massage helps to reduce puffiness and tension from the eyes and you will be experiencing a cooling sensation from the crystal ball effect. Some of the benefits from the energy of crystals (clear quartz/ rose quartz) include removal of negative energy and to purify your mind, body and soul.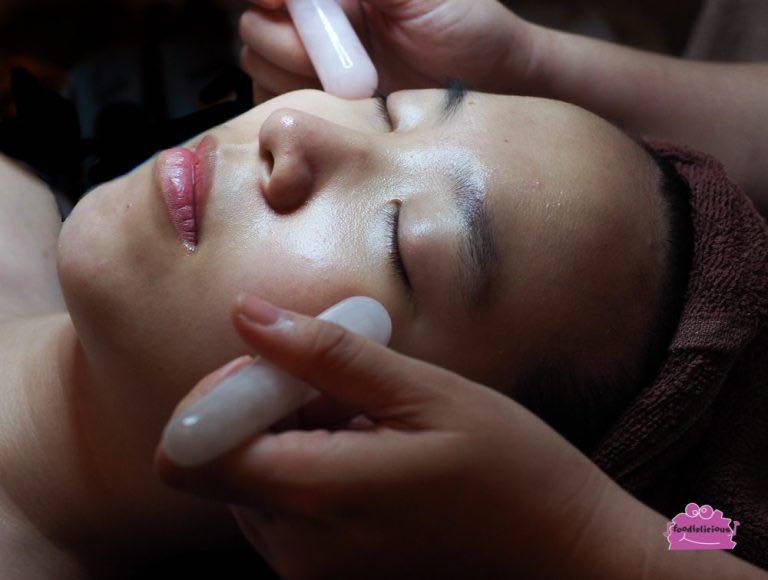 Source: Oo-foodielicious
Instead of just using massage cream that could possibly clog your pores, we use moisturizer customized to individual skin condition. We apply different massaging techniques for different skin types such as lifting or detox methods. Either way, you will definitely enjoy a calming experience!
Source: My Cozy Room
After the extraction process, our therapist will apply a suitable facial mask on your face to soothe the skin and minimize any redness. The nutrients from the masks will be absorbed into your skin for optimal effect of the facial. There are various types of masks for different skin conditions – anti-acne, moisturizing, anti-aging and more. Depending on the type of treatment you have selected, there may be intensive treatment add-ons such as the LED machine, which helps to fight off bacteria.
Source: My Cozy Room
Finish off your treatment with toner, moisturizer and sunblock for extra protection. You can also enjoy a soothing anti-stress shoulder massage for relaxation as well as eyebrow shaping to give a nice frame for your face.
What to Expect After Treatment
Towards the end of the facial, do not expect your skin to look perfect right away. Mild redness is common after a facial treatment and it should go away within the next two days. Some might also experience slight breakouts depending on individual skin condition. If you wish to understand more about why breakouts occur after a facial extraction, you may read more from here: http://mycozyroom.com.sg/breakouts-occur-facial-extraction/
While there might be mild redness for some people, the results from just one session alone makes a big difference to the complexion of the skin – less redness, smoother skin with less bumps, blackheads removed and increased radiance.
Hence, we always recommend customers to go for regular facial treatments in order for the skin to improve in the long run. You might also wish to avoid scheduling your facial visit on a special occasion or event.
Our friendly therapists will be more than happy to share some home care and product advice if you wish to know more.
How Often to Get a first time facial?
During the skin renewal process, old skin cells die and are replaced by new, fresh and healthy skin cells. In conjunction with the skin renewal process which takes place every 28 days, getting a facial once a month would be sufficient for people with normal skin types. On the other hand, if you have more serious breakout issues, we would recommend more regular visits (every 2 to 3 weeks) to clear out any impurities on your skin.
---
Known for the Best Extraction Facial in Singapore, My Cozy Room has also attained several awards such as Her World Spa Awards 2017 and received many great online reviews from happy customers. Try out our Award-winning Premium Extraction Facial at $144 nett (U.P $288, 120 min)(Valid for first-time customers residing in Singapore only) now!
The results of our targeted treatments are immediate and long lasting, creating the foundation for achieving clear and radiant skin!
My Cozy Room @ Cairnhill
Contact: 6732 0030
WhatsApp: 8666 0030
My Cozy Room @ Devonshire
Contact: 6753 0030
WhatsApp: 8811 0030
Register your interest here and we will contact you soon!