It remains unclear on how deadly the Novel coronavirus (COVID-19) is going to be, or whether the virus going to subside anytime soon. But one thing for sure, this pandemic crisis has affected the lives of many, and has successfully revealed the ugly side of human nature. Social panic has sparked many selfish acts such as panic buying at supermarkets, as well as the condemning of medical staff in public transport. And these incidents have been surfacing on the Internet over the past few weeks.
Fortunately, not all hope is lost as there are still many kind souls in the society, who are willing to make a sacrifice or carry out simple acts of kindness in the midst of this crisis. As citizens of our nation, we should stand together as one and make a positive difference no matter how big or small.  Here are some heartwarming examples of the unsung heroes in Singapore who have displayed a charitable spirit.
Blossom Seeds Medical Escort Service – Unfortunately, many drivers shun away from passengers who are going to the hospitals due to the fear of the virus. Hence, Blossom Seed has come up with an initiative for volunteers to bring the needy and vulnerable elderly to and fro from their medical appointments at the hospital and polyclinics. They also used the opportunity to share with the elderly about the importance of personal hygiene and hand washing techniques to protect themselves.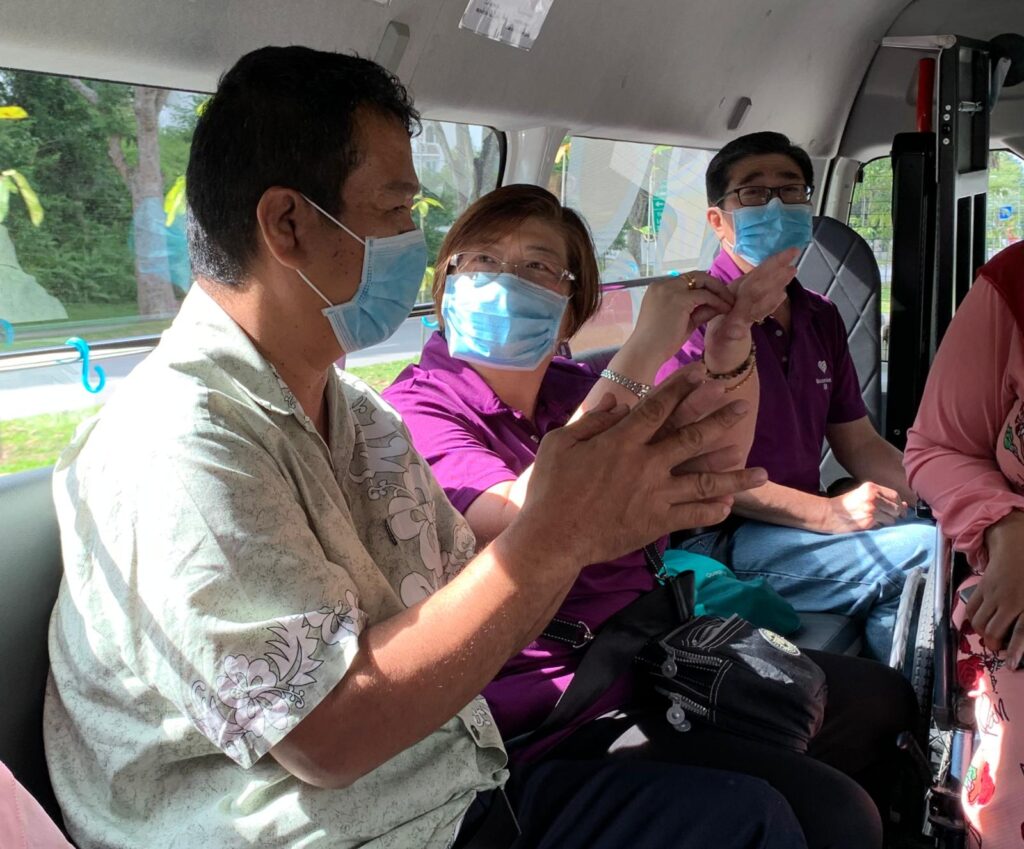 Source: Blossom Seeds
Park $2 Project – Mr Jason Chai has partnered with social enterprise Kindness Mart and managed to raise $10,000 in a day to buy essentials for needy families as stocks run out in Singapore due to the panic buying.
Source: Kindness Mart
Love Letters to Healers – While everyone else is celebrating Valentine's Day, there are many frontline workers such as medical personnel working tirelessly to save lives. A movement called #braveheartsg was created for people to show appreciation to these unsung heroes by penning down heartwarming and encouraging notes.
Source: Tong Yee FB
Punggol Husband and Wife Giving Out Free Masks – While others were selfishly hoarding limited supplies; this commendable couple have distributed 17,000 free masks around Punggol.
A NVPC Community Response Group was also created to provide a platform for people who wish to contribute. And any volunteers can choose to either take part in the activities or create an initiative themselves. These are just a few of the many kindness acts that have been going around in Singapore during this critical period.
Kindness comes in many ways. Here are some simple suggestions to contribute no matter how big or small.
1) Share or repost positive and inspiring stories online
A simple click of re-sharing heartwarming stories on your social media helps to spread positivity. In the midst of all the chaotic and mass panic, reading happy stories online helps to lighten up the mood.
2) Sharing is caring
Ever since the start of the coronavirus, stocks of sanitizers and surgical masks have run low amid growing fears. While some are hoarding onto tens and hundreds of boxes trying to resell at exorbitant prices, there are many kind souls who are willing to share supplies with those in need. Sharing can be done in simple ways and you might just help someone in a tough situation.
Source: Reddit
3) Take part in the charitable initiatives
If you wish to contribute but unsure where to begin, you can search for volunteering activities on the NVPC Community Response Group where you can choose to contribute and make a difference. Every thought and actions counts!
Source: Food From The Heart
4) Act responsibly
Everyone should have the social responsibility to prevent the spread of the COVID-19. Here are some responsible ways you can follow:
Wear a mask when you are unwell and try to stay home as much as possible
Wash your hands with soap or sanitize your hands frequently
Do not cough or sneeze into others
Do not refuse treatment if you are unwell 
5) Be appreciative to people around you
Not all heroes wear capes; learn to be appreciative of the people around you. We should never justify our unkind actions with fear.
My Cozy Room truly believes in encouraging beauty in many ways, not just on the surface of your skin but from the bottom of your heart. Be beautiful inside out and act with kindness.