So you noticed a zit on your face and frantically tries to search for Best Extraction Facial on Google in hope of finding a suitable solution for perfect skin. You might wonder to yourself, what is extraction all about?
Source: Shutterstock
What is a Facial Extraction?
Facial Extraction is a process most commonly used in facials, for clearing clogged pores, blackheads, and pimples using manual methods or mechanical tools to achieve clearer skin.  It is also one of the most essential procedures, which is responsible for the optimal results of your treatment.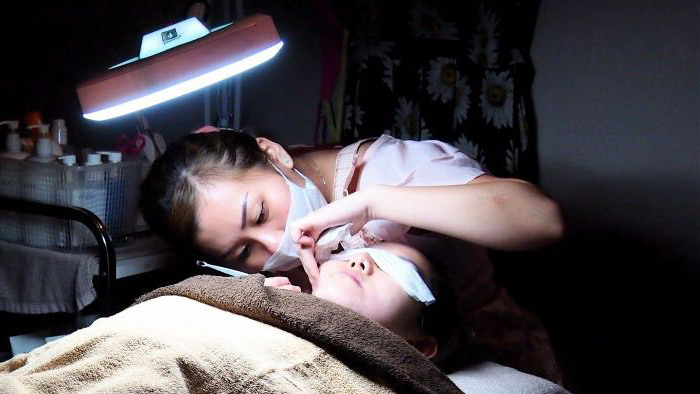 Extraction Facial Treatment at My Cozy Room
My Cozy Room specialised in extraction facial, and well-known for its meticulous yet gentle extraction process. Extraction may sound like a horrific nightmare to some due to bad experiences, but it is downright important to remove the filthy gunk from your pores.
Furthermore, our skilled therapists professionally trained to handle extraction with minimal pain and redness. This allows you to enjoy the experience with greater comforts as well as to walk out of the spa feeling confident and rejuvenated.
Voted as "Best Facial in Singapore"
With our emphasis on professional standards and gentle yet meticulous extraction techniques, My Cozy Room has vouched by several patrons and magazines as one of the Best facials in Singapore.
My Cozy Room is here to offer you a solution that makes for both a treat and treatment. Our therapists are equipped with skills and knowledge to properly meet your skin's specific needs and delicacies with your very own customised treatment that sure to soothe out any skin problems that have fazing you.
My Cozy Room believes you deserve to the best version of yourself, and we promise to always strive to help every patron achieve her/his best self in the most comfortable and assuring manner possible
FAQ about Extraction Facial:
Why is extraction required for a facial?
When your face exposed to dirt and debris from your surroundings, pores can get clogged with oil, turning into blackheads and pimples subsequently. Clogged pores  the enemies of your beautiful skin.
Sad to say, they not easy to get rid of naturally. Extraction has to come in place to manually remove the blackheads, pimples, and clogged pores.
We have explained why you should not pop your own pimples in our previous blog post:
https://mycozyroom.com.sg/facial-extractions-good-bad-skin/
Is Extraction Painful?
Extraction is unlikely to 100% painless as some force required to remove the impurities from your pores. Also there also a chance that you may experience some discomfort if it is your first time doing a facial. Or have not had a facial for a very long time.
While we unable to guarantee zero pain at My Cozy Room, happy customers have given feedback to us. That the extraction relatively painless compared to other places. This due to our professionally trained therapists coupled with their passion. To provide a gentle yet meticulous extraction process.
That  said, please  aware that every individual's skin condition. Also threshold different and may contribute to different levels of pain tolerance.
Will extraction cause any breakout after facial and how should I take care of my skin?  
Read more in this post below:
https://mycozyroom.com.sg/breakouts-occur-facial-extraction/
---
Known for the Best Extraction Facial in Singapore, My Cozy Room has also attained several awards such as Her World Spa Awards 2017 and received many great online reviews from happy customers. Try out our Award-winning Premium Extraction Facial at $144 nett (U.P $288, 120 min)(Valid for first-time customers residing in Singapore only) now!
The results of our targeted treatments immediate and long lasting to help you remove your clogged pores – blackheads and whiteheads!
My Cozy Room @ Cairnhill
Contact: 6732 0030
WhatsApp: 8666 0030
My Cozy Room @ Devonshire
Contact: 6753 0030
WhatsApp: 8811 0030
Register your interest here and we will contact you soon!